Sales Update
Hello everyone!  The past two weeks have been a wondrous ride, the PMCv1 site pegged out at  1,044 hits on 14 Oct 2014!  Since it has stabilized to around double the daily traffic compared to before release..  A very fun time, indeed.  Also, the supported model list has been updated with the feedback that I have received thus far.  I know there are a few PMCv1's currently in the shipping stage too.
I do want to share with everyone that current PMCv1 stock is down to a little more than a dozen 2008-2009 models and about three 2010 models.  If you've been on-the-fence about a PMCv1 until some more feedback has been received, now may be your last chance.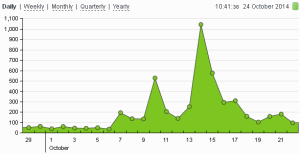 PMCv1 Feedback
I have begun receiving feedback on the PMCv1, and I have not yet received one single complaint.  Hurrah!  Lots of good feedback and discussion is occurring over at AVSForum, and at some good feedback (with pictures!) has been posted to the PMCv1 Feedback Page.  If you would like to provide your own feedback, I and all future customers would appreciate it!
A Poll for Future PMCv1 Customers
As I am nearing depletion of stock of the first PMCv1 units, I am contemplating where to go from here.  I have considered a Kickstarter campaign to produce something on the order of 500-2,000 more PMCv1's, but that all depends heavily on how many customers are committed to buying.  I certainly can't afford to produce 2,000 PMCv1's if only 100 more are ever purchased!  The downfall to Kickstarter are the additional fees that are taken out of the transaction.  Another thought is the good old tried-and-true standby method of accepting pre-orders.  The difference is that Kickstarter won't charge anyone until the project reaches its goal, but that comes at a cost.  Taking pre-orders means that if I don't have enough preorders in a set window of time, I have to go manually refund everyone.
So the poll that I am presenting today is to request feedback on where people think the PMCv1 should be headed..  Please be honest and consider carefully before responding.  You MAY select multiple entries (for instance if you are okay with any option) …  If you have an idea for an entry that is not listed below, please feel free to provide feedback at the bottom of the post..
NOTES:
Delivery date would be set somewhere around 8-12 weeks after the funding period is ov

er.

For pre-order option, Build versus Refund would be decided at the close of the pre-order window.

Poll Closed.  PMCv2 expected ship date is February 2015.
Once initial stock is depleted, where should PMCv1 go next? (You MAY select multiple entries.) (CLOSED)
Forget Kickstarter! ONE-month pre-order window on the PMCv1 website (60%, 57 Votes)
Forget Kickstarter! TWO-month pre-order window on the PMCv1 website (21%, 20 Votes)
Kickstarter campaign with a goal of 500pcs. (17%, 16 Votes)
To the archives of history.. It was a fun run, but it's done. No additional PMCv1's produced. (2%, 2 Votes)
Total Voters: 81

Loading ...
thanks for your continued interest in the PMCv1!
..dane