–Archive of PMCv1–
–Replaced By PMCv2—
---
 + =
What is a PMCv1?
Simply put, a PMCv1 (which stands for Panasonic MLL Clearer, version 1) is a device that connects to the secret "service connector" inside the back of your Panasonic Plasma television (model years 2008-2010). Once installed, the PMCv1 periodically and automatically resets the black level of the TV to its original, inky black, factory settings.
---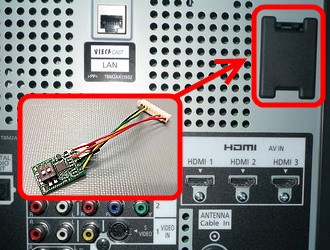 How can I buy a PMCv1?
NOTE: All PMCv1 Units Sold Out; Please See the PMCv2 Page!
Step 1:
Check the back of your TV for the service panel cover. Once you find it, remove it, and verify which 11-pin connector you have, or check the tables below for your model number.  The tables below are periodically updated, and you may also check out the PMCv1 Feedback Page for customer feedback and pictures.  Please use the legend below to read the tables.
International Model Numbers: Most model numbers have a letter at the end of a model number (TC-P50G10U, TC-P42S10E, TH-37PV80A, etc).  I have left the country-specific portion off to simplify the table.  The dozen or so international datasheets that I have checked contain the same service connector between country variations.  It is still a good idea to double-check the connector on the back of your TV before you buy though!  If you have any questions, feel free to ask before you buy.
Yes (Verified) — PMCv1 proven to work on at least one size within the family.
Expected But Unverified— PMCv1 should work but no feedback yet received.
Unknown — Service Manual inconclusive.  Check back later..
Need Service Manual(s) — No service manual(s) for this family. I have no clue.
2008 Models

Yes (Verified):
TH-xxPZ800
TH-xxPZ81FV

Expected But Unverified:
TH-xxxHD18
TH-xxPV80/PX80/PY80
TH-xxPZ85
TH-xxPZ850

Need Service Manual(s):
Any others?

2009 Models

Yes (Verified):
TC-PxxG10
TC-PxxG15
TC-PxxS1
TX-PxxS10
TC-PxxV10
TC-PxxX1

Expected But Unverified:
TC-PxxC1
TC-xxPS14
TC-PxxU1

Unknown:
TC-PxxZ1 (the Z1 datasheet is missing information, but mironto's DIY method seems to work, so the PMCv1 should too.)

Need Service Manual(s):
Any others?

2010 Models

Yes (Verified):
TC-PxxGT20
TC-PxxVT20

Expected But Unverified:
TC-PxxC2
TC-PxxG20
TC-PxxG25, TC-PxxGT25
TC-PxxS2
TX-PxxS20
TC-PxxU2
TC-PxxVT25
TC-PxxX2

Unknown
TC-PxxX20 (the X20 datasheet is missing information (like the Z1 model), but if the Z1 works, possible this one will too?)

Need Service Manual(s):
TC-xxPS24
TC-xxPX24
TX-PxxV20
Any others?

My Model Isn't Listed! ..or.. I have a Service Manual for You!

I only know of those models that I have been told about.  If your model isn't listed, let me know!  If you have a service manual, first please make sure it's the right service manual.  There are many PDF's out there that may say "service" or "manual," but if it doesn't have this type of information in it, it's not going to help me any.. Specifically, I'm looking for the connector pinout information and the part number information, as seen on pages 2 and 3 of the above-attached PDF. Some connectors are labelled A17 and A18, some CN0101 and CN0102, some A33 and A34, etc. If you have a service manual that I don't yet have, please send it to me at the address below.

Step 2:
Choose the proper PMCv1 for your model TV and buy now!

NOTE: ALL PMCv1 UNITS SOLD OUT!!
Please see the PMCv2 Page!
PMCv1 Customer Feedback & Pictures

Please visit our PMCv1 Feedback Page for comments and images submitted by PMCv1 customers.
Frequently Asked Questions
Software Update v2.2 Available

An updated software version for both PMCv1 and PMCv2 devices was released on 25 April 2015.  The update enables a new manual reset method that may be useful for some TV models.  The manual method more closely mimics mironto's DIY method, giving the user the the chance to control when and how often the black level reset occurs.  Original device installation instructions still apply, but the operational instructions have been changed in the new software version.  If you would like your device updated, please contact me and we'll see what we can work out..

Why do I need a PMCv1?

There's one very good reason to buy a PMCv1: because you want your Panasonic Plasma TV to look as best as possible! Your Panasonic Plasma TV may still be the centerpiece to your entertainment system, or it may have been moved to another location (master bedroom, game room, guest room, etc). But regardless of where it is, you want it to look its best. The PMCv1 will help you reach that goal.

Over time, all Plasma televisions adjust their black level. However, certain Panasonic Plasma televisions adjust their black level incorrectly. It is a factory design flaw that has been repeatedly tested and confirmed, and finally a solution has been found. The PMCv1 bundles up that solution into a neat, clean, tiny package that plugs into the back of your TV. Simply plug it in, and enjoy. "Plug and Play" at its best.

What's Black Level (or Minimum Luminance Level, or MLL)?

The Black Level of a display device (be it TV, Projector, Monitor, etc) is the blackest black that can be displayed. It is the minimum luminance (or brightness) that can be displayed on screen. In other words, how dark a dark, night-time scene in a movie can actually get, when viewing it on your display. This absolute darkest dark is the display's MLL, or Black Level.

How does the PMCv1 work?

Every time your TV is powered on, the PMCv1 will ask the TV how old it thinks it is. If the TV thinks that it has been used for more than 150 hours (total), then the PMCv1 will simply reset that value back to zero (0) hours.  All you need to do at that point is turn the TV off and back on again, and the TV will now think, "Hey, I'm brand new!" and your black levels will be at the deepest possible (for that unit).

How often does the PMCv1 reset my TV?

The PMCv1 will reset the black level on your TV approximately every 150 hours of TV usage.  Assuming the TV is on for three (3) hours per day, it will reset roughly once every six (6) weeks.  If the TV is on for seven (7) hours per day, it will reset roughly once every three (3) weeks.

How long do I leave the PMCv1 installed?

The PMCv1 has been designed to "plug and play," meaning that you plug it in once and forget about it!  You can, of course, remove the PMCv1 at any time.  Once it is removed however, no more resets will occur and your TV will once again begin to experience Black Level Rise.

Will I lose all my TV settings?

No Way! The PMCv1 only resets how old the TV thinks it is. The PMCv1 does not reset any of your contrast/sharpness/tint/etc settings, nor does it reset your channel list. The PMCv1 does not touch any settings except for how many hours the TV thinks it has been used.

The hours in the on-screen service menu don't change!

Of course not!  The "service menu" and "service connector" are two very different things.  The on-screen service menu (accessible by several button combinations while the TV is on) does contain an hours counter and a cycles counter (how many times the TV has been turned on), however neither of these counters affect MLL/Black Level.  The counters that affect MLL/Black level are on a different area of the TV and are not accessible through the on-screen service menu.

There is no need to reset the counters in the on-screen service menu, as it has been proven to be ineffective at reducing MLL/Black Level.  I rather suggest you leave it alone and it will continue to give an accurate indication of the 'true' age of the TV, while the PMCv1 is quietly maintaining your inky blacks behind-the-scenes.

What if something goes wrong?

If for some reason you are unsatisfied with the PMCv1, then you can flip the operational switch from "GO" to "UN" (short for Undo).  The next time the TV turns on the PMCv1 will restore the values in your TV to their last known-good values before the PMCv1 did its magic the first time.  The PMCv1 will then forevermore just lazily sleep and not bother you ever again.  You may leave it installed or remove it from the back of your TV and curse at it, throw it away, run it over with your car, give it away with stale Halloween candy, sell it and recover your investment, hack it and make it finally do something useful, or any number of other alternatives.

Installation and Usage Instructions

Included with every PMCv1 unit is a set of installation instructions.  If you have lost your instructions or want to have a look before you buy, you may download the installation instructions here:
PMCv1 Installation and Usage Instructions_revC

Warranty and Return Policy

This section will scare most of you away..but I need to be unequivocally clear and upfront here.  This section is written in plain English and is even fairly rude.  This is intentional and only serves the purpose to clear up any future confusion.  I would much rather scare you away now than you become unhappy with my product.

The PMCv1 comes with no warranty, and no refunds will be provided.

I reserve the right to change this policy at any time and to make exceptions as I see fit.  This does not, however, indicate that I will make an exception for YOU.  This is a side hobby and not my full time job. I have tried to keep the price low and still make a quality product, so any warranty and returns went out the window a long time ago.  However, I hope to provide enough information on this page to still earn your business.

There is no warranty.. Can I trust your product?

That is a very good question.  All I can do is give some of my background and let you make a decision.  I have updated the About Me page for just this very reason to include more biographical information.. I worked hard for over twelve (12) months to provide a product that is reliable and inexpensive, and builds upon the work already done by others in the Panasonic MLL universe. At the end of the day, it is your choice to make. Hopefully once units start shipping, positive feedback on the PMCv1 Feedback Page from previous customers will help solidify a positive reputation.

Why can't I just do this myself and not pay you?

You can! AVS Forum user mironto has created a fantastic DIY page that uses an Arduino processor and some software to perform the same reset that the PCMv1 performs. In fact, mironto's DIY page is what inspired me to create the PMCv1 for those who wanted access to the solution without all the "do it yourself" hassle. Check our mironto's DIY page for more information!

How much effort did it take to develop the PMCv1?

A lot. An abbreviated timeline of the Panasonic Black Level (MLL) problem and major milestones towards a solution (including mironto's DIY page and audiodane's PMCv1) can be found on the PMCv1 History page.
Keep Up-to-date
Signup at the bottom of the site for email notifications of updates to the PMCv1!